B.Sc. Catering Science and Hotel Management
Hotel Management is one of the leading catering institutes in India offering Under-graduate, Post-graduate and various Diploma courses in Hotel Management and Catering Technology. There are four major departments in Hotel Management Namely Food Production, Food & Beverage Service, Front Office, and Accommodation Operations. A student who studies in this institute can equip himself professionally in all these major subjects and choose one as his career in the hotel industry. The objective of the school is to make the student concentrate on all – round development and inculcate in him the importance of acquiring multi – skills which is the need of the hospitality industry in this new millennium.
The School offers the following courses
B.Sc Hotel & Catering Management
Diploma in Hotel Management
M.Sc Hotel & Catering Management
1 Year Certificate Course in Food Production, Bakery & Confectionery, Front office, Food & Beverage Service, House Keeping.
Lateral entry for 3 years Diploma in Hotel & Catering Management to II Year B.Sc Hotel & Catering Management.
The School is associated with the following professional bodies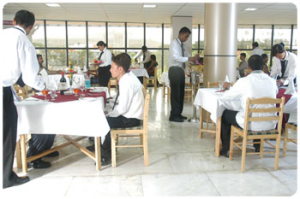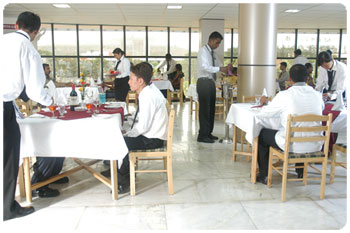 Federation of Hotel & Restaurant Associations of India
South India Culinary Association
Indian Federation of Culinary Association
The World Association of Chefs Society
Hospitality Educators & Recruiters Association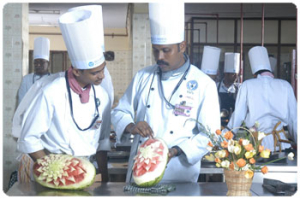 Quantity Training Kitchen
The students of the Second year degree and diploma are trained in this kitchen. It is here that the students are taught to prepare food in bulk quantities. The cuisine is commonly Indian, though it does concentrate on other global cuisines as well.
Advance Training Kitchen
The students of the final year work in this kitchen. The advanced level in cookery is taught and practiced here. Cuisines like Mexican, Chinese, Thai, and Mediterranean are prepared and skills like Ice carving, Vegetable carving, Tallow carving, etc are imparted to the students.
Food Production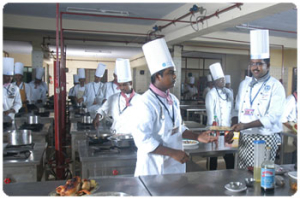 This department is divided into four major food preparation training facilities
Basic Training Kitchen
Here the students are introduced to the basic principles of cookery and are trained to cook food for 2 portions. The students of the first year degree and diploma train in this kitchen and generally the cuisine taught would be French.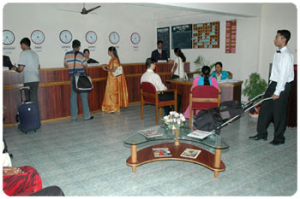 Front Office
In this department students are taught to organize, perform and evaluate the front office functions that are critical to the success of a hotel and trained to handle the diverse procedures of front office operations and management.
Accommodation Operations
The University has a Guest house having single room and a double room similar to the standards of five star deluxe hotels for the students to train in the art of bed making and room cleaning. This department also has a practical lab and a laundry for the students to learn laundry services and flower arrangements.
Career Opportunities
The most significant feature of Hotel and Catering industry is the capacity to generate large scale employment opportunities for under graduates. Abundant jobs are available in this sector that an aspiring student can choose from these following segments:
Management Trainee in Hotel and related Hospitality Industry
Hotel Operation Trainee in a core Hotel Department.
Career Opportunities in Flight Kitchens and In-flight Services (Cabin Crew)
Guest/ Customer Relation Executive in Hotel and other Service Sectors
Executive in Multinational and Local Quick Service Restaurants.
Shipping and Cruise lines
Hospitality Marketing/ Sales Executive in Hotel and other Service Sectors.
Hotel Executive in National/State Tourism Development Corporations
Executives and Supervisors in Resorts Spas.
Ground and In-flight staff in Airlines.
Managers/Supervisors in Facilities Management Service Providers (after related experience)
Self employment
Executives and Managers in Event Management Operations.
Other Related Industries.
Admission Started For B.Sc Hotel & Catering Management
For Booking Call : +91- 98945 02366